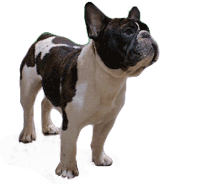 French Bulldog Club of Western Canada
The French Bulldog Club of Western Canada is now recognized by the Canadian Kennel Club. We are dedicated to this wonderful breed and we want to help people who are interested in all aspects of Frenchies: competing in conformation and performance events, breeding, judging and just owning and loving their dogs. We welcome inquiries from anyone wanting to know more about our adored breed, dog events and/or wanting to become a new member of our growing club.
For suggestions or inquiries, please contact any member of the executive.

Diane Dickins